Complete Practice Solutions provides medical billing for a wide range of specialties as well as family practice clinics
Benefits of Co-Sourcing your Medical Billing with Complete Practice Solutions
Reliable Billing Team
Our highly trained billing team stays on top of payor changes, so you don't have to. By detecting claim issues before submission, we are able to increase the number of approved claims. This allows you to benefit from our proud standing in the 99% Clean Claim Submission Club. When claims are accepted on the first submission you get paid faster.
Trusted Advisor
As a Trusted Advisor, we provide regular reviews and financial performance reports that offer insight into the financial health of your practice. We offer a fully visible and transparent billing model along with your own client care coordinator to provide guidance and insight on the performance goals of your practice.
More Time with Patients
As a physician, spending time with your patients is what you do best. Focusing your attention on the ever-changing list of guidelines from your payers takes you away from what drives your business. Let our sophisticated team of billers provide the detailed attention your billing deserves.
Cost Reduction
The challenge of hiring billing staff, along with training and re-training them to stay current with the ever-changing requirements of payers is a daunting task. Let Complete Practice Solutions team of expert billers continually provide the attention to detail that your billing deserves while reducing the burden on your staff. Minimize staff time while increasing your bottom line.
End to End Revenue Cycle Management
Claim Management
Claim Creation, Scrubbing, Submission (Electronic or Paper), and Tracking
Clearinghouse Management
Insurance & Clearinghouse Rejections
Assistance with Enrollments
EDI, ERA and EFT
Remittance Management
ERA, Manual Posting of Paper Remits
Denial Prevention
Identifying Trends and Provider/Office Feedback
Accounts Receivable Management
Claim Status Checks, Appeals, Denials, Underpayment Audits and Recovery
Patient A/R
Facilitate Patient Phone Calls, Patient Statements, and Soft Collections Process for Payment Recovery
Collections
Transition to external sources or make adjustments as directed
KPI Monitoring & Management Reports
Key Performance Indicators and Full View Analytics
REVENUE
9% – 23% Increase In Revenue on Average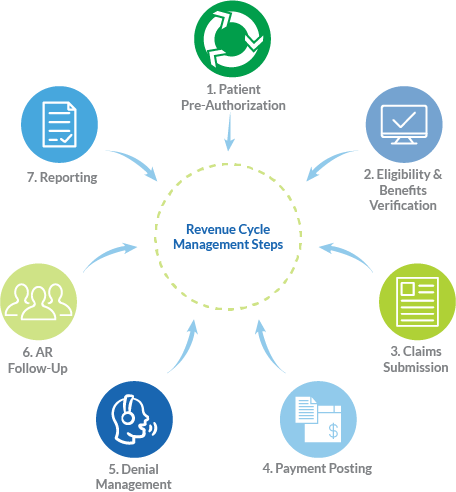 Take your Billing to the Next Level
Fee Schedule Maintenance
Authorization Services
Credentialing Services
Contract Re-Negotiations
Coding – Certified Professional Coders
Auditing – Certified Auditors
Billing Benefits You Can Trust
With more than two decades of experience, Complete Practice Solutions provides a clear answer to today's challenging medical billing issues. You and your practice matter to us, and because of that, we provide each of our clients with a highly trained account manager dedicated to your practice. Our billing and collections model provides you with complete transparency, allowing you access to your billing at any time.

Customer Satisfaction is Our Priority
The Complete Practice Solutions team is comprised of experts who have assisted us at every critical step along the way of establishing a successful medical practice. Complete Practice Solutions has provided us with first class support ranging from staff EMR training and insurance credentialing, to timely and accurate billing services. We highly recommend Complete Practice Solutions to anyone in search of a trustworthy and dedicated partner who instills confidence in their client by backing them with a wide array of advice and resources.

Practice Administrator

Complete Practice Solutions provided a professional and personal approach as we transitioned from in house billing to a co-sourced solution. Our billing process is now much more efficient, and our accounts receivable concerns are gone. We have full visibility to view the status of any claim to every dollar at any time. As an independent physician group, we recommend Complete Practice Solutions.